Assalamualaikum & Selamat Hari Raya Aidilfitri kepada Semua Penganut Agama Islam.
Dikesempatan ini kami menyusun jari memohon ampun dan maaf kepada semua pelanggan, kawan-kawan dan sahabat handai jika ada salah dan silap.
Semoga hari raya ini memberikan rasa kesyukuran kepada kita atas segala nikmat yang telah diberikan-Nya kepada kita selama ini. Sebulan Ramadhan memberi banyak keinsafan dan pengajaran kepada kita untuk sentiasa ingat kepada Sang Pencipta walaupun sesibuk mana kita dengan urusan dunia. Walaupun kita sekarang berada masa sukar disebabkan oleh pandemik Covid-19, marilah kita berprasangka baik, sentiasa positif dan muhasabah diri dengan sentiasa berdoa dan menjaga kesihatan diri dan keluarga.
Kami doakan kita semua diberi perlindungan dan dilimpahkan rezeki oleh-Nya samada dalam bentuk kesihatan, kewangan dan masa lapang.
Selamat Hari Raya & Maaf Zahir Batin kepada semua dari Kami.
Dari Meja Editor.
Alhamdulillah, Thank God. We just completely revamped our commercial website Pro Web Design Enterprise.
Features:-
👉 New friendly interface
👉 More informative and compact
👉 More precise business model
👉 More beautiful design
👉 Easy navigation and mobile support
👉 More projects and updated portfolio
Check out yourself and click the link below!
Lots of us have hobbies, and lots of our hobbies have the potential to provide a partial or even full-time income. Specialized bracelets, woodwork, hand-crafted clothing, homemade toys — the possibilities for original, one-of-a-kind products are endless, as is the potential demand.
Online marketplaces like Etsy may seem like the easiest way to start an online store, but then you're subject to their rules and regulations, which can change at any time. In fact, Etsy recently announced that all businesses will be automatically enrolled in a new advertising program that takes 15% of income from eligible sales — a big chunk of  sellers' hard-earned money!
With WordPress and WooCommerce, you have full control over your content, products, and where your money goes. You can create a store that's as large (or small!) as you'd like and customize everything to be as unique as your products.
Ready to start a business or expand your sales beyond local shops and farmers markets? Let's take a look at how to create an online store, make money online, and market your products with WordPress and WooCommerce.
1. Name your business and buy the URL
Choose your name carefully — it'll become a core part of your brand. As you narrow down your list of names, make sure that the URL is available (and isn't prohibitively expensive).
Pick something that's easy to remember and easy to spell. Avoid hyphens and numbers; these are easily mistyped or forgotten, and are harder to describe out loud.
If possible, buy a URL that ends in .com. If you choose something other than a .com, make sure there's no .com equivalent that's offensive or a direct competitor.
2. Choose a hosting provider
Websites are all made up of files. A hosting company stores those files and makes them viewable online. To choose the right host for you, think about:
Speed. Shared hosting plans, usually the least expensive option, store multiple websites on a single server. This can slow your site down, especially during times of high demand.
Customer service. Good customer service can save you lots of time and keep your business running smoothly. Look for companies with 24/7 support.
Safety. To protect your customers and your investment, choose a host that offers automatic backups, malware prevention, and email spam filters.
Uptime. Servers can sometimes "go down," which means visitors won't be able to access your site. Server "uptime" is the percentage of time that the servers are running. You want as high a percentage as possible — many hosts guarantee at least 99%.
Reviews. Read customer reviews to learn from others' experiences.
3. Install WordPress
WordPress is a website creation tool that will form the base of your online store. It's open source, flexible, powerful, and completely free, which is why it's the platform of choice for 35% of the web.
WordPress prides itself on easy setup and, under most circumstances, takes only five minutes to install. Most hosting companies offer one-click WordPress installation, straight from your host's dashboard. Check with your provider for the exact steps you should follow or read this complete guide to installing WordPress.
4. Select a WordPress theme
This determines the design of your website. A theme that's built specifically for eCommerce makes the process of setting up your store much easier. And whether you select a free or paid theme, make sure it's mobile-friendly and loads quickly.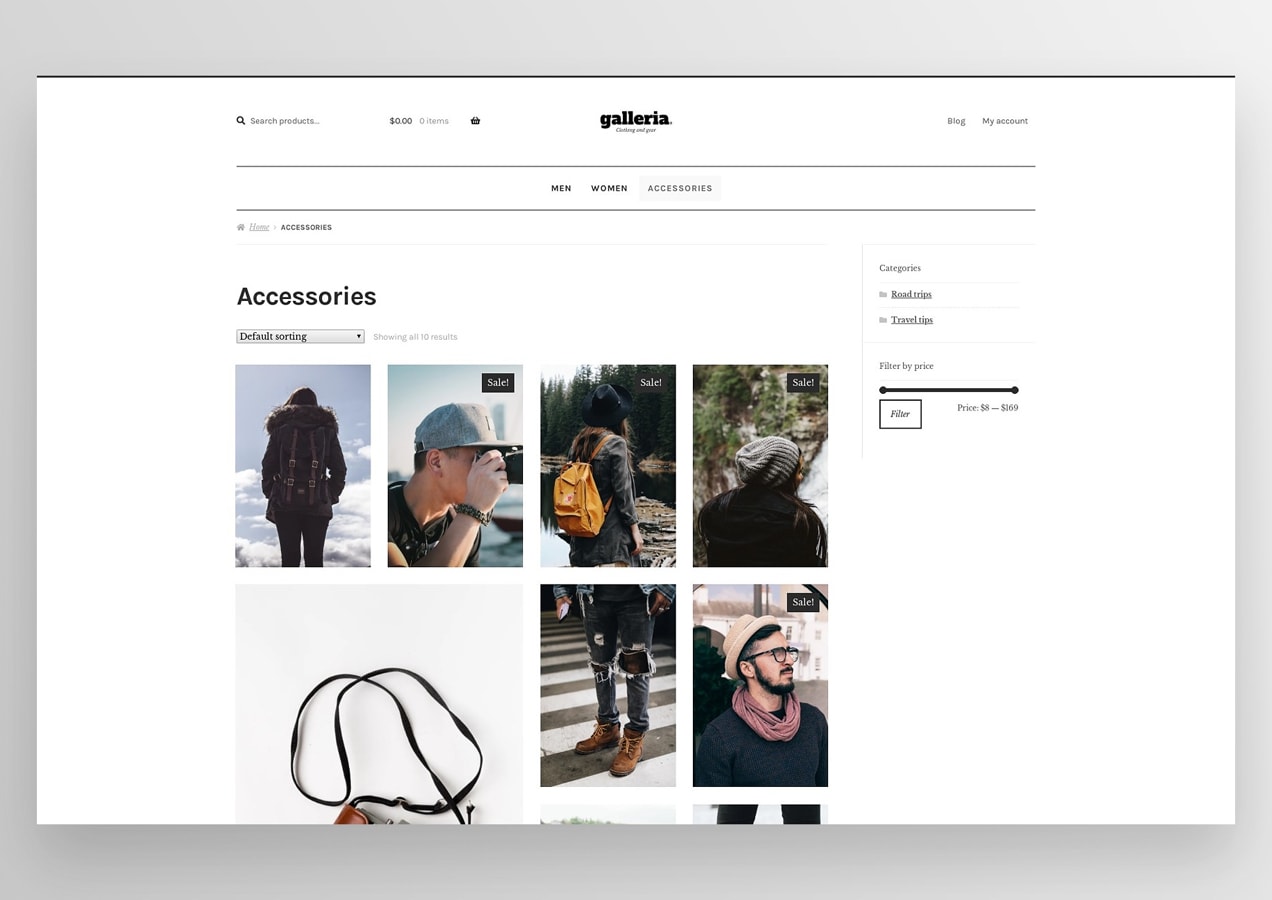 The free Storefront theme is a great place to start. It's clean and simple, but can be customized to meet your exact needs. It also offers several versions made for specific niches. The Galleria theme is perfect for clothing, while ToyShop is a great option for handmade toys.
View all the variants of Storefront  or see more eCommerce-ready themes from WordPress.org.
5. Install WooCommerce
WooCommerce is an intuitive, customizable platform for selling online. Use it to create product pages, accept payments, and use a variety of selling strategies and extensions to serve customers and increase revenue. You can modify the design and functionality to meet the needs of your specific store and scale as much as you'd like.
Best of all, WooCommerce is free to install and use! To get started:
In your WordPress dashboard, navigate to Plugins → Add New → Search Plugins
Search for "WooCommerce"
Click Install
Click Activate
The Setup Wizard will walk you through the basic configuration. Congrats, you have a store!
6. Integrate your payment gateway
A payment gateway allows you to securely accept payments online. WooCommerce integrates with all major gateways like Stripe, PayPal, Authorize.net, Square, and as in Malaysia such as BillPlz, SenangPay and Mobile88 along with niche gateways around the world. View all payment gateway integrations.
When selecting a gateway look at the applicable fees, security, and ease of use, and think about whether you want to take payments in person as well. Square brings this functionality to the table, allowing you to accept credit cards at flea markets, farmer's markets, and events while syncing inventory with your WooCommerce store.
7. Create product pages
Now that you have the basic structure of your store, time to add some products — get started with the steps in our Adding and Managing Products documentation.
If you're selling physical products, high-quality photos are key — online customers can't pick up and hold your wares. Take photos in an area that is well-lit (or purchase a simple LED light kit to help you) and free of clutter. This could be as simple as placing your products on a white tablecloth on the floor.
Show several angles, and take close-up pictures of any important details. You might even consider taking a short video to demonstrate how a feature works or highlight details that are be difficult to convey through text.
Then, write a good description. Focus on how the product benefits the buyer. How will it make them feel? What will it do for them? How will it make their lives better? Use language that speaks to the heart of your target audience.
Don't use jargon and industry buzzwords. You can add technical details farther down the page.
8. Create your other website pages
An effective online store offers more than just products; it should give customers all the information they need to make a purchase and convince them to come back. At a minimum, you'll want a Home page, About page, and Contact page. You may also want an FAQ page to answer the most common questions you receive and make customers more confident in your business and products.
To create a page, navigate to Pages → Add New in your WordPress dashboard. Then, use the built-in block editor to create unique, beautiful designs without needing to edit a single line of code. Drag and drop text, products, images, buttons, videos, and more!
Product planning, inventory, and shipping
How long does it take to craft each item you hope to sell? This matters because you don't want to outsell your inventory. If you end up with far more demand than you can meet, you run the risk of driving people away who showed up on your site ready to buy. WooCommerce offers a number of inventory management extensions that save you time and prevent embarrassing mistakes with customers. As your business grows, efficient operations will become even more important.
Finally, consider how you're going to ship products. What shipping providers would you like to use? Do you want to offer free shipping or charge based on cart size or weight? WooCommerce Shipping is a great place to start. It allows you to connect with USPS and print shipping labels directly from your dashboard.
Expand the functionality of your store
Once you've got the foundations of your store built, you can explore the world of extensions — that is, add-ons that give your store more options and functionality. WooCommerce offers an entire marketplace of extensions that help you increase sales, attract more customers, and manage your business efficiently, including extensions to:
Sell subscription boxes or ship customers their favorite products on a recurring basis.
Increase average order size by upselling and cross-selling.
Reduce abandoned carts and increase customer loyalty.
Accept deposits upfront before fulfilling larger, custom orders.
Use WooCommerce as a point-of-sale tool and accept orders in person.
Reach your customer base and encourage sales with email marketing.
Sell and price products like decor and frames based on their dimensions or weights.
Mix and match extensions to realize any functionality or design vision you have.
Put on your marketing hat
Building a website is a great start, but now you need the right shoppers to find it. Start by identifying your target audience — a group of people with common traits who are most likely to purchase your product — then experiment with ways to reach them. You might post in groups, join clubs, or place ads on sites that are frequented by your audience.
One of the most common ways to find new customers is through search engines. Think about what your customers might type into Google to find the kinds of things you make, and what phrases indicate an intention to purchase. Someone searching, "how to knit a scarf" is less likely to purchase than someone who types, "buy homemade scarf."
You can place ads on platforms like Google so that your site appears when someone searches for one of these terms. Learn more about Google Shopping Ads and explore the Google ads for WooCommerce extension. You can also save on advertising costs by trying to show up naturally when someone searches for one of these terms. This can be accomplished through search engine optimization (SEO).
For successful online marketing, put in consistent effort, be willing to experiment, regularly measure results, and refine the process over time.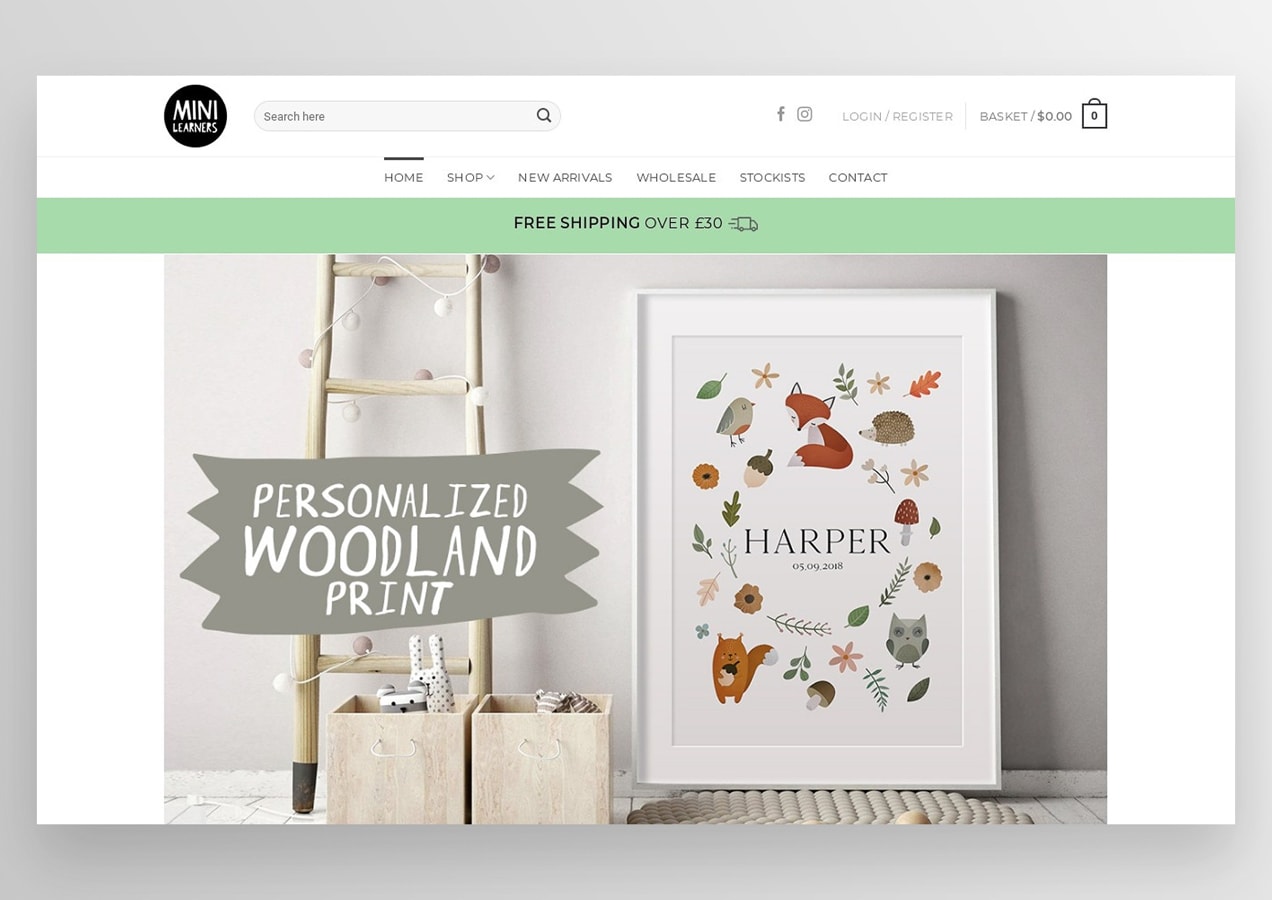 Do you want to sell products on online marketplaces?
In addition to your eCommerce store, you might want to sell on Amazon or eBay. You can integrate WooCommerce with online marketplaces for a seamless way to make money online.
Turn your hobby into a business
Hopefully this introduction to online selling has made you feel more confident about starting an eCommerce store. You can do this! Go through the steps. Take your time. Don't procrastinate. Set goals and commit to them.
NEED HELP TO SETUP YOUR E-COMMERCE WEBSITE – CONTACT ME NOW – +6013-3560014 (Wan)
– Source by Dan Magill
Your sales funnel – also known as your revenue funnel or sales process – leads prospective customers through their buying journey.
A well designed and properly executed sales funnel has four stages: awareness, interest, decision, and action. And it helps a business to convert their leads into paying customers.
It's important – and not easy – to build a great funnel. One that helps you identify the right buyer early, and makes buying your product a happy experience.
If you're about to create your first sales funnel, this post will help you understand the different steps of building a sales funnel.
How to build the best sales funnel
#1. Know Your Target Audience
You need to understand your target audience before you begin to create your sales funnel. Base your research on the following points:
The problems they're seeking solutions for
The social media channels they use
Things that interest them the most
Things they find the most annoying about online shopping
#2. Build Your Buyer Personas
You can build different buyer personas targeting your marketing campaigns for the various segments of your customers. You can derive different and accurate buyer personas from research based on these questions:
Why will they buy your product?
What are the things that influence them into buying a product?
How are they going to use the product after purchasing it?
#3. Plan on Generating Traffic
If people are not aware of the products you sell, there will be no sale. Therefore, you need to adopt different lead generation strategies to drive users to your website. You can adopt the following measures for this purpose:
PPC campaigns
SEO
Landing page optimization
Influencer marketing
Guest posting
Social media marketing
#4. Plan on Engaging Your Audience
Your lead generation efforts won't be enough on their own if you fail to engage your audience. They need to learn about your product and services, and this goal can be achieved with the help of the following strategies:
Creating engaging and high quality blogs
Creating interesting videos
Involving influencers and requesting that they review and offer tutorials of your products
Promoting your content on social media platforms
Conducting email marketing campaigns to promote your latest blog posts and sending newsletters
#5. Convert Your Leads
Lead conversion is the final stage of the process during which the visitors convert into paying customers. Ensure that completing a purchase does not take too long by:
Minimizing the number of form fields
Lesser number of steps for completing a purchase
One-click options for sign-in and sign up
If you want to learn more about creating sales funnels, have a look at the infographic above, which explains it in more detail.
If you want to create this funnel sales page. Please contact me +6013-3560014 or shoot my email prowebdesignmy[at]gmail[dot]com for a free quote.
When you are sending emails day in and day out, it's only natural for some emails to miss the mark. Maybe you sent the wrong link to someone or addressed someone by the wrong name. These are issues that can be easily fixed with a simple check-list. After all, writing a good email depends, a lot, on getting the basics right. Let's look at the 6 main checks you need to do before you hit 'send' on a support email.
1. Address the customer by their name
It's a good practice to call a customer by their name. If you do not know their name, a friendly "Hi there" will do. But do start your reply with a semi-formal greeting, no matter how burning the issue is. It sets the tone that you are calm enough to handle the issue no matter how the customer is feeling.
2. Thank the customer
The customer is using your product/service and cares enough about it to write to you. So, whether it's a complaint or a how-to question, they have taken an interest in your company and that should be met with gratitude.
You can thank them for bringing the issue to your notice.
You could thank them for using your product.
You can thank them for giving you a great feature idea.
A simple thanks will make them feel valued and help them understand that their thoughts are welcome. But say it only if you mean it.
3. Answer all the questions the customer asked
No matter how great your email is, the primary goal of the customer is to stop talking to you. That is, they want to get an answer and move on. So the main customer service skill is to always value your customer's time and give them clear answers to all their questions in one go. If you need more time to answer some of their questions, then go ahead and say it. Don't make the customer feel like you did not read their full email.
4. Address the underlying emotion of the email
Some customers are calm and composed when they write to you. But some are frustrated and angry customers. It's natural because what might seem like a simple problem to you is actively preventing them from getting what they want.
So if they sound anxious or sad or angry or frustrated, go ahead and address it, and reassure them that you are doing everything you can so they don't feel that way. If there is nothing you can do to help, you can still address it and tell them that you are sorry that they feel that way. Ask them if there is anything you can do to help. A simple acknowledgment will show them that you care.
5. Try out the solution before suggesting it to customers
This check is mainly applicable to tech support questions. Before telling them to refresh the screen or try from a different browser, try it on your side. Maybe the solution was given to you by some experts on the team, but you don't want to find out from your customers when it's not working.
6. Check for grammar, broken links, correct code and attachment
Blunders pull you down. It's hard to look like an expert problem solver when you overlook the little things. So make sure you check spelling errors. You can use tools like Grammarly for this purpose or even Microsoft Word. For things more than spelling, if you are not confident about the grammar, just show it to your closest grammar-nazi colleague and get their input. Similarly, if you are sending a link or a code, make sure they are working. And always check to see if you have attached the document you promised to attach.
Source: Prashanthini Mande
From the rise of design systems to the dwindling of celebrity designers, in the last decade, the product design industry drove significant shifts and changes. So what's in store for the 2020s? Will designer-PMs become the new designer unicorns? Will mobile apps and websites become old school, replaced largely by augmented reality? Will AI and machine learning–powered software make design even easier?
The answers to these questions are a resounding "most likely." At least, that's what we've surmised after collecting insights from folks in the know at Facebook, Dropbox, Abstract, Grab, and more. Let's dive into their predictions about the future of innovation, business thinking, tools, and processes.
---
Jasmine Friedl
Director of Design, Intercom, and co-host of the New Layer podcast
I don't usually engage in predictions; I'm far better at reflection! One thing that surfaced in 2019 — again, like, are we over this yet? — was the whole "should designers code?" debate. I remember a few years back, we were wondering if product designers should master content strategy.
One thing that's become pretty evident in the past few years is that product designers have a huge opportunity to become better business people. For quite some time, we've had a healthy tension (OK, sometimes unhealthy) between product managers and designers, in that designers want to be as much a part of what we design and build in addition to how we design and build. But I haven't seen as many designers grounded in great business and business-growth thinking. As in, how to drive revenue through product, how to minimize cost (or risk), and even things like understanding how their own allocation, process, and time drives not only user impact, but business results. In the best situations, this means better results, funding, and products for customers and users. In the past few years, we've seen a bit of a surge of "growth designers" — designers who tend to geek out on experimental processes: pulling small levers to learn how to drive business results — and I see that as an indicator of where we're headed.
Another thing that's on my mind is how we balance our levels and create career paths for senior designers. There's definitely more folks coming into the UX and product design world as universities are getting more in tune with the roles of designers today, and bootcamps are quickly delivering new grads. Many companies prefer to hire senior folks, and we've got bottlenecks to what happens after senior, and yet tons of more junior folks just trying to get their foot in the door. There's no shortage of problems to be uncovered and solved through design, so I'd hope in the future we have more clarity on how to create senior paths, for non-managers particularly, in order to better utilize our community.
---
Jamal Nichols
Senior Product Designer, Facebook, and Principal at Truth About Design
I don't think anyone can predict what will happen in 10 years in product design. The field changes too quickly. In the next five years, though, there are a few emerging threads that will continue to grow stronger:
Much more money and people flowing into the industry
Tools and skillsets merging
Emerging technologies
So what does this mean for the future of product design?
Designers will know more about engineering, and engineers will know more about design
I'm already seeing this happen. Some of the younger designers on my team at Facebook have computer science degrees and write their own classes in Framer. Engineers are setting a higher bar for themselves with regards to design because they see so many other apps out there.
Mobile apps and websites will be like vinyl records and inkjet printers — they will still be around, but the innovation will be elsewhere.
The mobile and desktop design space are mature industries that are now 15 to 25 years old. There will be a need for these apps and tools for a long time to come, especially in the enterprise space. But the most innovative, challenging work will be happening elsewhere.
Augmented reality will start displacing mobile apps and websites
Apple has laid the foundation for this shift. ARkit and the lessons learned from AirPods and Apple Watch with regards to miniaturizing technology will play into new form factors in the future — most likely glasses. When the shift happens, mobile apps and websites will play a much smaller role, and everyone in the design industry will feel like noobs again, trying to figure out the best tools and workflows to design for this new form factor.
---
Wes O'Haire
Product Designer, Dropbox
This will be quite a decade for product design. While no one knows the future, I'd place bets on two trends:
Product designers will become "nimble thinkers."
Product designers will start to focus more on Agentive Design.
Product designers will become nimble thinkers
Parts of design are being commoditized (e.g., free design resources, design systems, more powerful design tooling). This is leading designers to move up the value chain by leveling up their business thinking, problem-solving, and communication skills.
Good designers will successfully learn these new skills. However, great designers will develop systems to learn these new skills. This will make them "nimble thinkers" — able to continually adapt to the changing landscape and operate across many different functions.
Two skills that will become popular for designers will be finance and selling
Finance, because it's the language of business. Not knowing how to speak this language means it's harder to get things done.
Selling is about being able to articulate why your solution solves someone's problem. This could be in writing, one-to-one conversations, or presentations. When you can sell, you can ensure your solutions actually land with people.
Product designers will focus more on Agentive Design
The last few decades of interaction design have relied on manual user input. Buttons. Inputs. Forms. Someone needs to continually interact with your product to extract its value.
But with the rise of automated technologies (AI/ML/etc.), much of that manual input can (and should) be automated. Set it and forget it. Products will do things on our behalves, acting as an agent for us. That's agentive design.
Designers of the future will focus on creating products that are mostly automated, while giving people the ability to tune and monitor the product.
---
Marissa Louie
CEO and Chief Designer, Animoodles
I'm excited to see product design continue to evolve. Here are some things I anticipate for 2020–2030:
Designer-PMs will be the new designer unicorns
The line between product designers and product managers will continue to blur as more designer-PM hybrids uncover new value for both users and organizations.
Business-savvy product designers who are adept at product thinking, data analysis, data science, strategy, and user research will be increasingly sought after as design metrics gain a larger seat at the table. More designers will get MBAs, and more product managers will create higher-fidelity wireframes and mockups thanks to democratized design tools.
Learning will increase across design disciplines
There will be a lower barrier to learning design disciplines that are slightly outside of digital product design. Fields like animation and industrial design will be accessible in shorter formats than university courses, on platforms such as LinkedIn Learning and Skillshare. The increased cross-pollination of design disciplines will unlock new innovation.
AI and Machine Learning simplify the product design workflow
AI and ML-powered software will reduce the steps it takes to mock up and spec full user experiences. They could anticipate a designer's gaps of thinking and correct errors such as inconsistent alignment. They should be able to pull from design systems and design libraries in a seamless way, making design across platforms and browsers easier.
Voice UI becomes more advanced
Voice UI will be more aligned with how humans think, such as processing multiple data sources in order to come up with answers in real time. The technology should evolve beyond merely understanding text and become able to gather insights and information from images, songs, and other multimedia content formats.
---
Heather Phillips
Director of Design, Abstract
Design-thinking methodologies will be applied more broadly
In the 2020s, we'll see more companies apply design-thinking methodologies to broader business and operational challenges. As more organizations evolve to incorporate design into other processes, designers will need to evolve as well. We'll need to equip ourselves with a better understanding of our businesses' needs and how we're uniquely suited to drive impact.
I've seen this approach be effective at design-led companies, including here at Abstract. We led a design sprint in collaboration with our support team to examine their end-to-end workflow and identify key areas to improve efficiency. This process led to us to designing a way for users to submit a ticket directly from our app. Our proposed solution would not only be easier for designers using our product and keep them in-flow, it also eliminated multiple steps for the support team to capture all the information required to solve a ticket.
The value of design thinking is well understood and explored as it applies to brand experiences or product flows. In the next decade, we'll see more mainstream companies deploy designers to apply this methodology to their sales teams, recruiting processes, and everything in between.
---
Randy Hunt
Head of Design, Grab, and author of Product Design For the Web
Designers will take ownership for the consequences of their choices
Design and responsibility have been intertwined in academics, theory, criticism, and practice for decades, but we've never before seen the intensity that designers will apply that responsibility to their own work. 2020 will be a tipping point.
In 2020 we will see designers take responsibility for the consequences of their design choices on the world at large. Why now? We're seeing the effects of design consequences in our daily lives: the rapid spread of misinformation, the climate crisis affecting our daily lives, anxiety about surveillance.
And yet, by many measures, the human population is in the best position it has ever been. Designers see the risks, but designers also see the potential. If we're waiting for designers who, in the last decade, gained "a seat at the table" to drive change, this is the change I hope they drive toward. This is both a prediction and a call to action.
– Amy Schroeder – abstract.com
Picking up extra work on the side is the American way these days.
A new Bankrate survey found that 44 million of us have a side hustle, whether it's selling things online, dog walking or something else. A quarter of Millennials with side jobs bring in more than $500 each month just by moonlighting, while young Baby Boomers are in the best position to rake in an extra $1,000 or more each month on the side.
If you haven't started your side hustle yet – or if you have one but don't earn as much as you'd like – here's the why and how of building a professional website to win customers and make your side-hustle pay off.
Why have a side hustle?
Paying the bills is a big reason people pick up extra work in their downtime, but it's not the only one. Here are a few more reasons to start your own side business.
1. Do what you love
Not everyone is lucky enough to love their day job, and a side gig can help balance out the daily grind with work that's fun. Maybe after a day at the bank, you're ready to unwind with a couple of hours of writing short stories. If you've got readers who subscribe each month through a service like Patreon, your hobby can pay off. Or maybe a Sunday afternoon that you spend baking and decorating a cake for a local client's party is the perfect way to refresh yourself for the 9-5 workweek ahead.
2. Transition to self-employment
If you've ever seriously thought about becoming your own boss, you know it can be a tough leap to make – financially and emotionally. By testing out your business idea on the side, you can see if it's workable without losing your regular income. And if you're one of those exuberant folks who has a new business idea every other week, testing them out as side gigs can help you decide which are keepers before you go all in.
3. Counteract "economic uncertainty"
Even if your finances are good now, extra income can help you prepare for whatever life throws at you later on. Having a few months' worth of living expenses saved up is always a wise move, and having extra money to invest when you're young can help you out when you're ready to retire someday.
Does your side hustle really need a website?
Yes. We're admittedly pro-website here at HostGator, but these days a business without a website is a business many customers will never even know about. There are also marketing and sales advantages to doing at least some of your business online. With a website, your side hustle can:
1. Get found
Most shoppers start the purchase process by searching online, and this step in their purchase process is where small businesses like a side hustle can stand out.
According to new research by Microsoft, some 70% of shopping searches happen on Google, Bing, and other search engines, rather than within marketplaces like Amazon. That's good news for independent sellers, as long as you know how to get your side hustle's site to rank well in search results.
If you provide local services or goods, a website is a must – and the site must be optimized for fast and easy-to-navigate mobile use. That's because a whopping 88% of "near me" searches happen on mobile devices while consumers are out and about. If they're going to find you when they're ready to do business, it will almost certainly be because of your site and SEO.
2. Establish credibility
To buy from you, customers need to trust you, and a website is an important tool for building trust. A good site gives visitors the information they need to make a decision, including product or service details, testimonials and awards, purchase and refund policies, contact information, and more.
In contrast, businesses without websites can seem shady or amateur. As Craig Reardon writes at Smart Company's Australian site, "The lack of a website will make customers question your fundamental business savvy. You just can't be serious if you don't have a website because it is the most basic of customer service tools."
3. Build your list
When business owners talk about their list, they're almost always referring to their email list.
This is the group of customers and potential customers who've opted in to getting newsletters, promotions, and offers from you via email, which means there's real value in building your side hustle's list.
Put a sign-up form on your site and create a welcome-to-the-list autoresponder email using an email marketing tool like Constant Contact. Then when you're ready to let your list know about sales and new products, all you have to do is write them up and hit send.
4. Sell direct
Does your side hustle sell products you can delivery digitally or ship easily? Do you sell services that people outside your immediate area can use?
If so, a website can expand your side hustle's potential customer pool far beyond your hometown. We've got the lowdown on setting up an ecommerce website and creating a portfolio site for professional services.
Seorang pelanggan dari Kelantan juga minta membina laman web jualan untuk menjual baju-baju di kedainya secara borong dan biasa. Bennoh Fashion Valley adalah nama yang tidak asing lagi di Kelantan yang menjual pelbagai jenis pakaian dengan harga yang sangat berpatutan.
Sekarang ingin pelbagaikan kaedah jualan dengan cara jualan secara online yang menjadi fenomena sekarang ini dimana semua peniaga khususnya peniaga pakaian menggunakan laman web jualan untuk melariskan lagi jualan dengan lebih cepat mudah dan sistematik. Dengan menggunakan laman web eCommerce ini, peniaga dapat pelanggan lebih ramai, senang urus dan kawal stok barang, senang bagi diskaun kat pelanggan, dapat ketahui dengan mudah stok barang yang laku dan kurang laku, barang mana yang popular dan dapat simpan maklumat pelanggan untuk tujuan promosi.
Ingin dapatkan laman web jualan murah dan menarik seperti ini, call atau Whatsapp saja 013-356 0014 untuk pertanyaan.
Khas untuk jurufoto / jurugambar / photographer. Tunjukkan skil fotografi terbaik anda kepada bakal pelanggan dengan laman web interaktif koleksi gambar-gambar terbaik.
Laman web ini sesuai sebagai portfolio hasil seni terbaik anda. Tunjukkan perkhidmatan yang anda tawarkan melalui laman web yang direka exclusive untuk jurufoto amateur atau profesional.
Lihat DEMO disini  –> KLIK DISINI
Jenama perniagaan yang baik dapat dikenalpasti melalui tahap perkhidmatan atau kualiti produk yang terbaik dan lebih dari kebiasaan. Persaingan yang sengit dalam dunia perniagaan memerlukan peniaga mencari jalan untuk menaikkan kesedaran pelanggan terhadap jenama masing-masing melalui pelbagai cara.
Untuk pemasaran online, peniaga wajib mempunyai laman web perniagaan sendiri untuk menjelaskan dengan lebih terperinci mengenai perkhidmatan atau produk yang ditawarkan. Laman web yang menarik dan senang digunakan pastinya akan meningkat kesedaran pelanggan mengenai jenama perniagaan dan seterusnya menjadi pelanggan setia untuk sesuatu produk atau perkhidmatan tersebut.
Dengan kata lain, anda memerlukan laman web yang menarik dan mudah digunakan untuk menjadikan jenama perniagaan anda gah dimata pelanggan.
Dapatkan perkhidmatan pakar laman web professional dan berpengalaman untuk business anda. Call / Whatsapp 013-356 0014 untuk maklumat lanjut.
We design your success.